Good Eats Across the Region
Story by Amanda Walsh | Archive Photos by Jason Chow and Kirsten McGoey
Since East of the City published its first edition in 2002, we have had the pleasure of discovering a plethora of truly stand-out restaurants in Durham. Our food section is by far our most popular feature in every edition and it is something we love to share with you.
We have eaten our way across the region, with very satisfied tummies under our now taut belts. There are hundreds of places to whet your appetites so we narrowed it down to those we have featured in the past to highlight where they are now! Trends in food have changed since 2002, discover how!
Casual and kitschy at KB in Whitby
Founded in 2004
When Kevin Brown first opened KB at 120 Brock Street North in Whitby, their biggest challenge was relaying their concept to potential guests. "Some people didn't understand that our menu changed almost daily, and why we intentionally stayed away from some of the more stereotypical restaurant menu items," says Kevin. "Also, we didn't fit into a traditional restaurant genre. We had higher end food and attentive service, but in a casual, kitschy atmosphere, and couldn't be compartmentalized as a particular genre or ethnicity."
Fast forward to today and a lot has changed. "There is so much choice out there for dining and people know more about food and what they want from food service than ever before," says Kevin. Competition has changed too, with delivery services making choices for eating at home nearly unlimited. Food savvy consumers can also make higher end meals at home as grocery and specialty stores have evolved to offer better quality ingredients.
"We as an industry really have to relay an experience to people as much as a meal if we want to stay relevant to today's consumers," says Kevin. "That means great service and establishing a connection with guests to convey your concept and make sure the guest has the best time possible."
Back when they opened, food trends were moving toward the farm to table idea, authenticity of ingredients for globally influenced dishes and integrity of ingredients. Sharing multiple plates was also something customers were looking for. "Food trends today are leaning towards sustainability in a big way," says Kevin. "Vegetarianism and veganism are a growing trend, because more and more people are concerned about what they are eating, whether it be because of weight or health concerns, concern about the social and environmental impact of modern commercial meat production, or because of concern about animal welfare." There is also a trend towards individualized meals, with growing awareness of allergies or food sensitivities, as well as increased cultural and/or religious diversity.
"We bought a 40-acre organic farm just outside of Lindsay," says Kevin. "We are developing our farm to provide the restaurant with not only a source of organic and sustainable ingredients. We are currently the stewards of layer and broiler chickens, as well as heritage turkeys, and Muscovy ducks. We have organic vegetable gardens, have begun a small orchard, and are planning to raise our own lamb in the next year."
"For over 15 years we have tried to incorporate as much local, sustainable or organic, eco-friendly content into our menus as possible. That percentage has grown over the years with increased availability," says Kevin.
KB Food
120 Brock St N, Whitby
(905) 430-0236
www.kbfood.com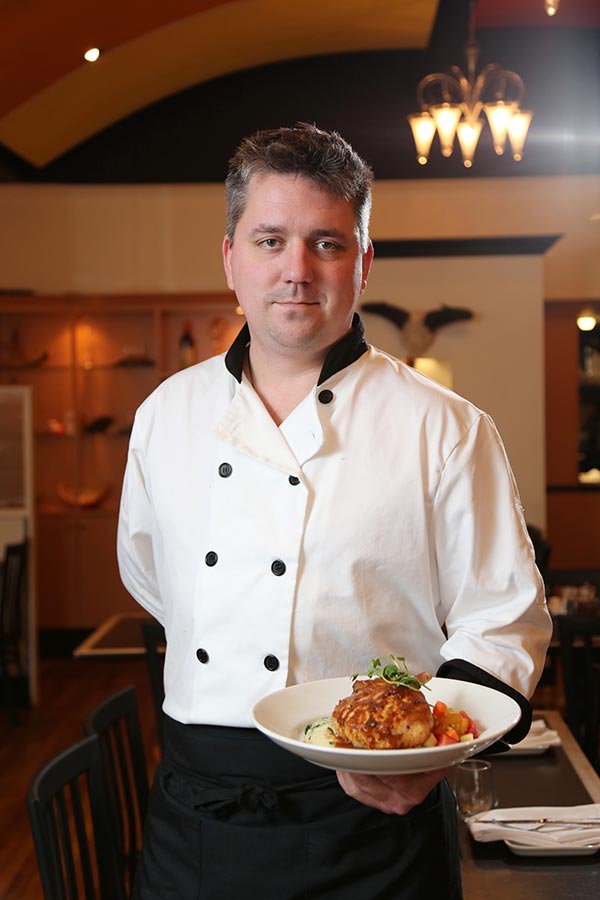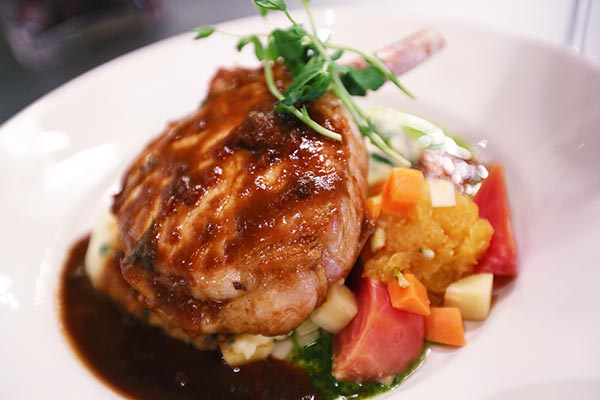 Trendy casual, globally influenced at Urban Pantry in Uxbridge
Founded in 2011
Urban Pantry is Uxbridge's trendy casual eatery located in the heart of town. Proprietors are father/daughter team John Pagidas and Niki (Pagidas) Filntissis. They offer a globally influenced, locally sourced menu although that isn't where they started. "Our family had previously owned a fast food restaurant for 26 years in the same space called Texas Burger," says Niki. "No one had any idea that we were changing the concept to what we have become today."
When they opened their doors eight years ago, Urban Pantry was faced with the challenge of making sustainable, high quality, organic food reasonably priced. "It was important for us to find a team that had the same passion and vision as us," says Niki. "We have developed great relationships with farmers in town and we strive to support each other."
The quality of food they gain from their partnerships is apparent in every bite. However, it is the sense of community that truly stands out. "We have a fun and professional work environment with very supportive customers," says Niki. "Together we are all one big family."
The sense of community is just one of the reasons Urban Pantry strives to bring the best quality product to their table. "Our customers definitely care about where their food comes from and its quality," says Niki. Today they also see the need to meet the changing diet trends. "We always ensure we can meet various dietary needs by providing options on our seasonal menus," says Niki. "We make all our food in house and as a result we are very flexible in creating dishes that suit our guests' needs."
Trends such as farm to fork, sustainability and eco-friendly, non-GMO ingredients are the driving force behind their business. "They go hand in hand with our concept. We are a farm to table style restaurant, and we work with farmers who organically farm," says Niki. "We are constantly evolving to make ourselves better. We compost all our food waste, recycle and throw out as minimal food as possible."
Urban Pantry is a FeastOn certified restaurant. "In 2018, 47%of our food and beverage spend was grown in Ontario and 53% of alcohol products were grown in Ontario. We do our best to keep improving on this," says Niki. "We quickly started to focus on using farm to table ingredients. This not only provides the best quality ingredients but supports our town's economy. We only offer Ontario craft beer and have a wine list that is 45% Ontario product and that list is growing."
As Niki gets ready to welcome her second child, the future looks bright for a small-town restaurant with a big global conscience.
Urban Pantry
4 Toronto Street North, Uxbridge
(905) 852-5050
urbanpantry.ca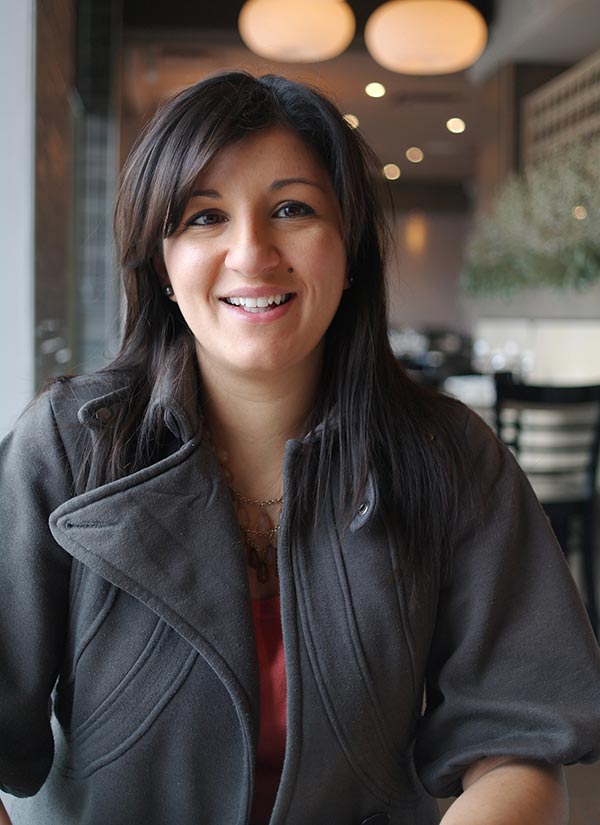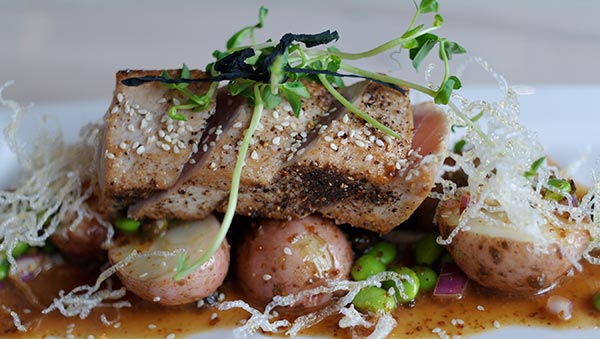 Casual Italian at Il Fornello in Ajax
Founded in 2009
Stacey Patterson actually opened the first Il Fornello restaurant on the Danforth in Toronto. It soon became the go-to spot for pizza lovers sick of the cardboard crust, yellow cheese and processed toppings of the typical chain delivery pizza variety. The crisp, dark thin crust and fresh, simple toppings started a trend toward Neapolitan-style pizza, and the Toronto pizza market was never the same.
When she decided to expand, she chose Ajax for one of their new locations. "We were extremely busy in our first six-months and then things slowed down a bit," says Stacey. "Customers were loving the food, but it seems to be a trend in the suburbs that everyone is anxious to check out any new restaurant but then return primarily for special occasions."
Despite a strong start, Stacey saw sales dip. She decided she had to focus on local marketing and adjusted the brand to be more accessible. "Ajax wasn't as familiar with our Neapolitan-style pizza," says Stacey. "We began cooking the pizza at a lower temperature and created some new pizzas like our BBQ Chicken Pizza and our Pizza Carne with pepperoni, bacon, sausage and green pepper. The rest is history.
At the time the restaurant opened, food trends leaned towards larger portions and more value. "The shift today is moving slowly away from meat and towards more vegetarian options," says Stacey. "More and more people are looking for alternatives to gluten, dairy and animal products. We have always offered gluten-free pizza and pasta and recently introduced an extensive Plant Based Menu that has been very well received."
Stacey has always felt that she owes it to her customers to give them what they want. "We have always been ahead of the curve in adapting to the changing needs and dietary restrictions of our customers," she says. "If that means offering gluten-free or dairy-free or making adjustments to an order to cater to a dietary requirement, well that's all a part of offering your service."
Il Fornello
95 Kingston Road East, Ajax
(905) 427-1110
ilfornello.com/ajax/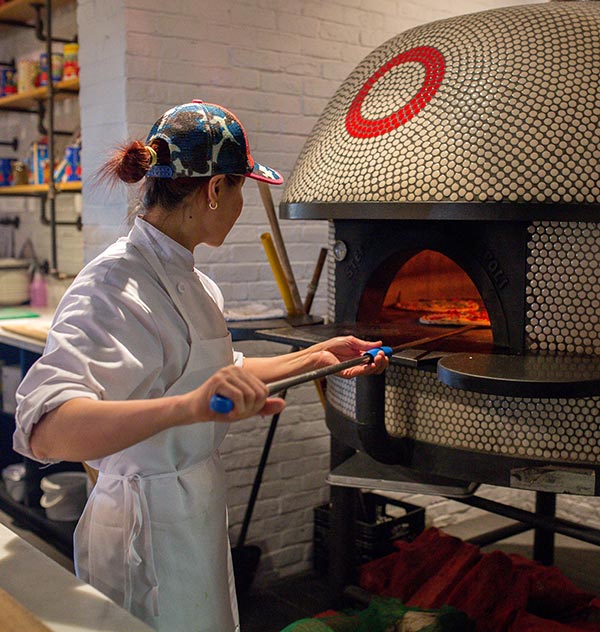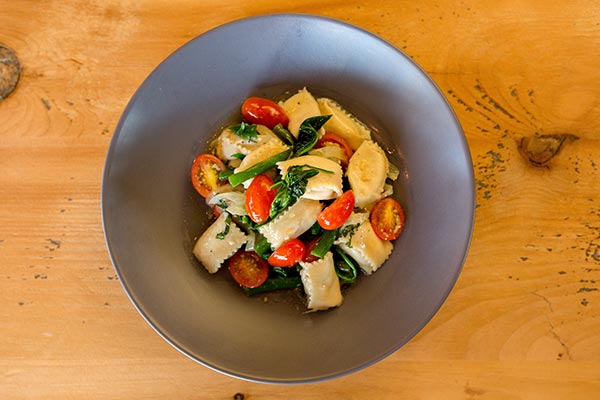 Culinary vibrance at Chatterpaul's in Whitby
Founded in 2007
Chatterpaul's has withstood the test of time, with a formula that works for their guests: Innovative and delicious food, a vibrant and welcoming environment, and dynamic and caring staff, every time. When the restaurant opened 12 years ago, co-owner Penny Johansen was new to the industry, but her partner James (Chadman) Thomas Chatterpaul was not. "He was a seasoned professional with many years of experience behind him," she says. "We were very confident that we would be successful. Opening night was crazy – we should have filmed it – total chaos – but we survived!"
Today, their guests might argue they have taken things to the next level, with "Chad" exploring new culinary sensations that show his passion for his craft. "Our a la minute cooking style means our food takes a little longer, but it is prepared fresh 'right now' for you, and our guests have come to value and appreciate that," says Penny. "People want to be appreciated, treated with respect and valued as a customer."
Penny has also found people want to experience new dishes in smaller portions. "Our guests appreciate the smaller portions, or tapas. I suppose it gives them the chance to have more flavour sensations to enjoy."
When they first opened, their menu was heavy with pasta and meat. Today there is a greater focus on serving healthy dishes and quality ingredients. "We have always accommodated food intolerances and allergies, and we are finding more and more guests with special concerns about their food," says Penny. "Vegetarians, gluten issues, vegans, keto all come into play, but we still have a huge number of guests who just love to come and try Chef Chad's latest creations – no questions asked." After all, isn't that what fine dining is all about?
Chatterpauls
3500 Brock St N, Whitby
(905) 665-7575
www.chatterpauls.com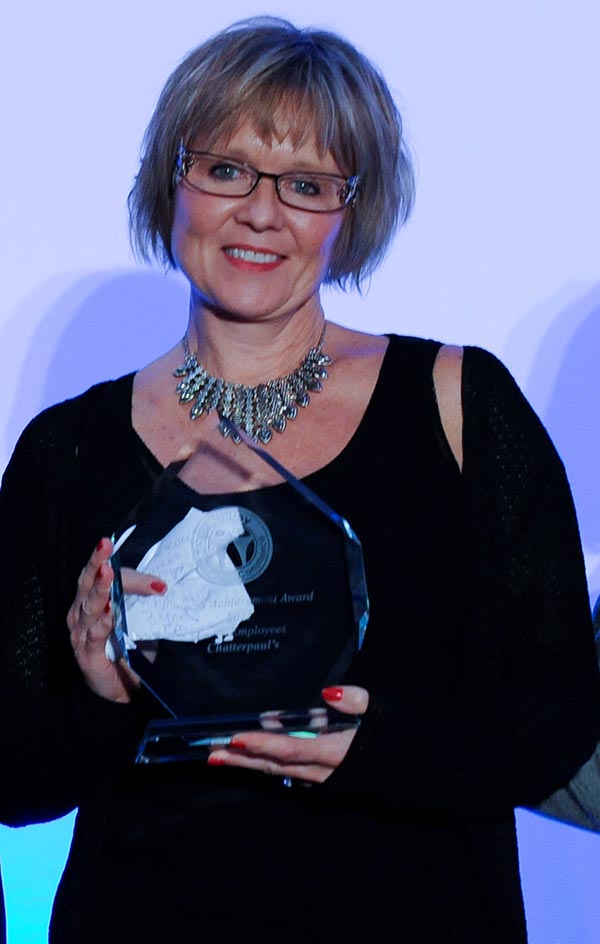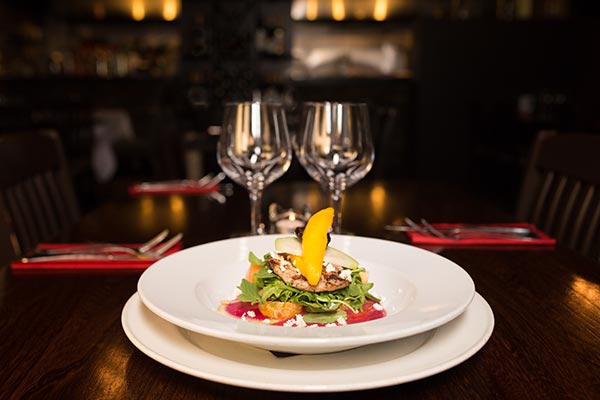 Field to Fork at Foundry Kitchen & Bar in Port Perry
Founded in 2016
Steven Lovisa's Foundry Kitchen & Bar hit the ground running when they opened almost three years ago. They were thrilled to receive such a warm welcome from locals anxious to find out what they were all about. "The benefit of being a new place in a small town is that people are curious, talk about it and come to check it out," says Steven. "We've also had the opportunity to build some wonderful personal relationships with our guests and I think it has helped with the experiences that people have here — myself and staff included."
Steven doesn't feel food trends have changed much since they opened. "It hasn't quite been three years yet, but the focal points have remained close to that time," he says. "Sustainability, eco-friendly, field to fork, etc. These keywords were a part of what we set out to do and continue to do."
Steven tries to meet the expectations of guests who want to know their food comes from ethical sources. "We have always invested locally and whatever we can't source locally is sustainable and ethically harvested," he says. "I'm proud of the products we serve and will stand by my ingredients all day long."
Steven also tries to meet the requirements of the many popular diets people stick to today. "We try to include a variety of dishes on our menu so we can appeal to most peoples' dietary restrictions or preferences," he says. "Our menus have changed to adapt to demands but we always remain realistic that we can't please everyone." Steven instead focuses on keeping everything fresh, so he always offers the best to his guests. He's returned to some basics as his menus evolve by creating simpler more relatable foods that are less complicated and just let the amazing ingredients speak for themselves.
"I think that today there is an appreciation for things that people can relate to and that satisfy on many levels," says Steven. "I think a simple approach to food is providing a contrast to molecular gastronomy and tweezer food that we see a lot of. I personally, would much rather have some honest food that looks nice, without being pretentious, and makes my belly smile. And that's the trend we're trying to follow."
Foundry also focuses on supporting their local community. "We work with as many local purveyors as we can and invest in reputable suppliers because these trends have always been something we've strived to adhere to since day one," he says. "Obviously we're a little limited depending on the season for things like local produce but we do what we can to work around that."
Steven has also started teaching at Durham College as a Chef Instructor. "It's wonderful to have that opportunity to share my knowledge and passion with students — and they teach me things too," he says. "It's pretty cool that I have the chance every day to make people happy and am grateful that I, in a small way, can make a difference in the lives of the people around me."
Foundry Kitchen & Bar
56 Water St, Port Perry
(905) 982-2757
www.foundryportperry.com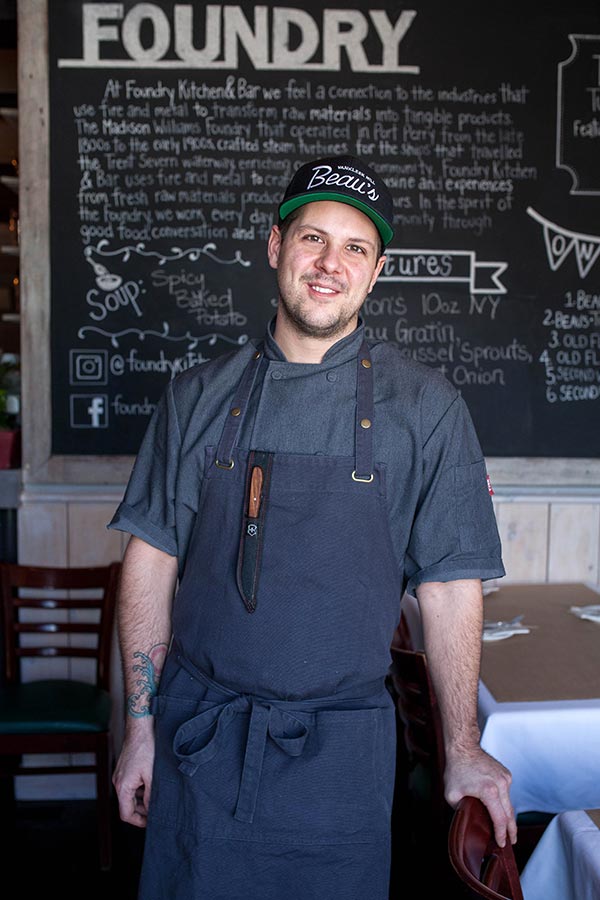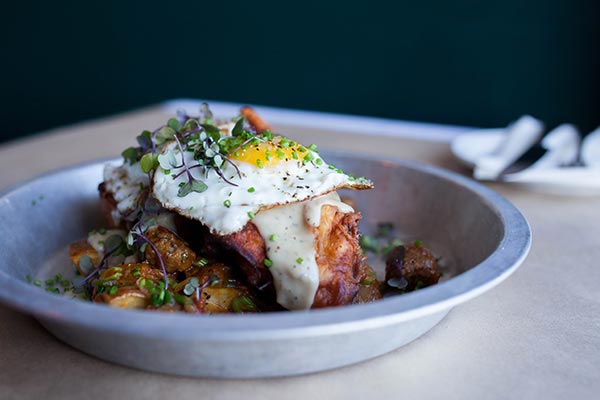 Commitment to quality at Wildfire Steakhouse in Oshawa
Founded in 2014
Wildfire's motto has always been, "One guest at a time." When they opened their doors in Oshawa, they had their work cut out for them, filling a location that had seen many different restaurants and bars fail. But with determination and a lot of skill, they opened their doors with the hopes the community was ready. "One of the challenges at the time was being a 'Toronto' restaurant and overcoming the stigma associated with that of being expensive," says Operations Supervisor, Maria Escott.  "We reached out to let people know that we were part of the community in Oshawa. Part of that commitment which we are still a proud part of is the sponsorship of the Oshawa Generals and being the official steakhouse of the team."
Through word of mouth they soon became known as a steakhouse that takes its meat seriously. "When we first opened in Oshawa, we were a steakhouse opening in a time when people were beginning to explore vegetarian and vegan options," says Maria.  "So, the challenge was to create a menu that created options for everybody."
"Our chef also creates weekly features as well as a monthly prix fixe menu," says Maria.  "The challenge is staying fresh and being competitive as more and more restaurants open in the area and costs continue to rise. We want to remain top of mind treating everybody like family!" Their Chef is continuously looking at new ideas, using Chef features to add new items to their menu that will fit their guests' changing lifestyle choices.
"From day one we always tried to remain conscious of allergies and choices such as gluten free and or vegetarian and have indicators in our menu for items that fall into those categories," says Maria.  "We try to remain good partners and use local suppliers for our produce and beef.  Our seafood options are sustainably sourced which is also indicated in our menus."
With the closing of their flagship Wildfire on Yonge street in Toronto, they have discovered a new zeal to nurturing their Oshawa location and exceeding the expectations of their guests. "Our executive team have emerged from this location and are committed to continued great service and developing new and creative menu items that will continue to captivate our guests," says Maria. She views the Oshawa location as their "little gem."
They are also meeting the trend for food on demand with the arrival of dozens of food delivery apps out there.  "Two of the biggest trends are home delivery as well as more divergent ethnic choices reflecting the changing neighborhoods," says Maria.  "We have much of our menu available through Skip the Dishes and are continually exploring flavor options in our various features."
Wildfire will continue to prepare their food a la minute, treating each guest as family in the hopes of seeing them come back again and again.
Wildfire Oshawa
540 King St W, Oshawa
(905) 215-0231
www.wildfiresteakhouse.com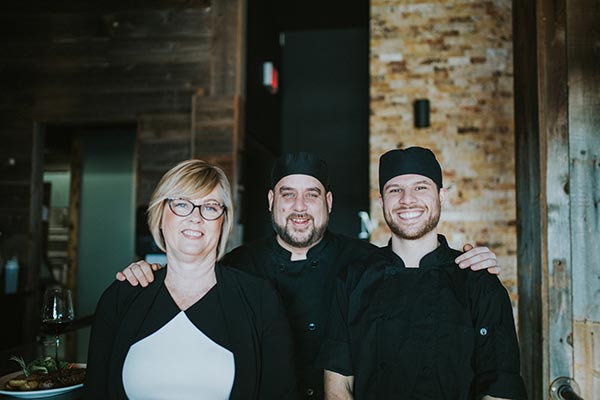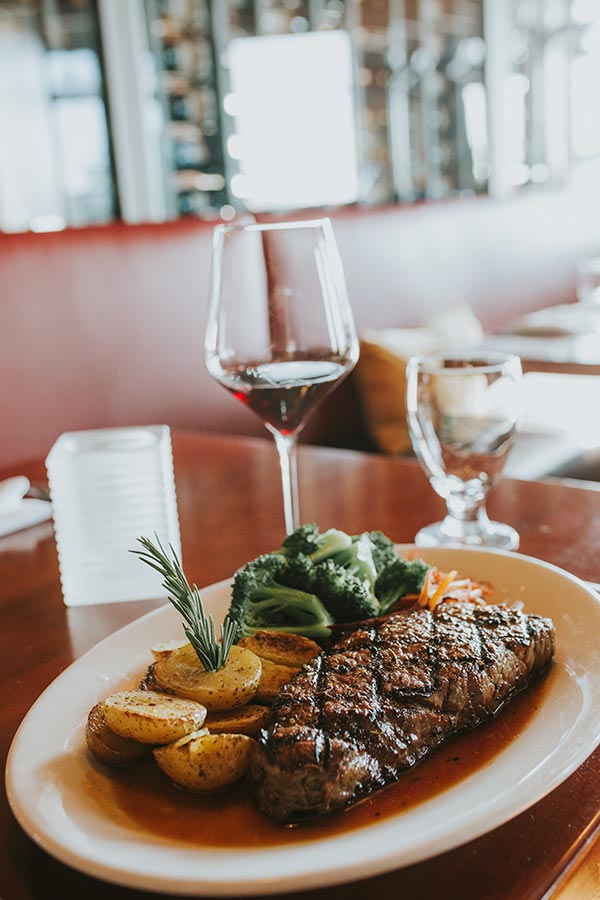 Farm to Table at Three-Six Kitchen and Lounge in Bowmanville
Founded in 2015
At their opening in May of 2015, Three-Six exceeded their own expectations and projections. "Customer flow has been great, and we still receive first time diners on a daily basis," says owner, Mike McKay. "It has really been a dream scenario for us, and we are extremely thankful for all of our amazing customers."
Although they have been successful, they weren't without their challenges. "I feel our biggest challenge has been competing with all of the chain restaurants in Bowmanville," says Mike. "With the exception of one or two places, there has never been a restaurant in Bowmanville focusing on local house made cuisine."
However, today that works in their favour. "Things are different today as the whole farm to table aspect has really taken off over the last couple of years," says Mike. "This has definitely helped us as people are willing to spend the extra couple of dollars to have a locally produced unique meal."
Although they only opened four years ago, they have seen changes to food trends. When they first opened, high end comfort food, locally sourced food, and "anything with avocado" were on trend. Today, it's all about meat free, plant-based foods, fermented drinks and perhaps most importantly, traceability of food.
Mike hasn't found special diet requirements have impacted his business as much as others. "This hasn't had too much of an impact, we make everything from scratch, so it is easy to accommodate for diets/allergies," he says. "We are always up to the challenge of cooking for people with dietary restrictions."
Other trends such as farm to fork, sustainability and eco-friendly practices have also not been a challenge. "I don't believe this has affected us at all," says Mike. "We have always tried to have fun with food and create locally sourced dishes to serve to our amazing guests. We are still working closely with local farms, breweries, wineries and distilleries to bring as much local products as we can to our guests."
They also look for ways to make a night at their restaurant enticing. They have specials throughout the week and their partnership with local Manantler Brewery is an example of their commitment to support other local businesses.
Mike says they are grateful for his customers and look forward to continuing to create and serve locally sourced dishes for them to enjoy.
Three Six Kitchen & Lounge
36 King St E, Bowmanville
(905) 623-0377
www.threesixkitchen.ca