Finding suburban peace with Global's Antony Robarts
Story by Erin Elliot | Photos by Kirsten McGoey
As a veteran journalist, Antony Robart knows how to meet a deadline under pressure. And one afternoon this summer you could find him going to great lengths to finish a complicated DIY host gift mere minutes before actually arriving at a guys' cottage weekend.
His assignment: an embossed-wood bottle opener. "It was hilarious," he says. "I had to buy an inkjet printer that morning to transfer the image. I had to stop at a Rona in this tiny town to get the proper screws because the kit included the wrong screws. I had to drill new pilot holes and pull over on the side of the road to apply the final coat of Varathane. When I take on a challenge like that I go all in. And I don't stop until it's done properly. Well, or until it just can't be done anymore."
Many have seen this lighter side of Robart on Global News Morning where he and Jennifer Valentyne have been co-anchors since March. Before that, he delivered hard news as the anchor of Global News at 11. His career has taken him to Haiti the day after the 2010 earthquake, to the results desk of the 2011 Ontario provincial election, and to cover the 2012 Scarborough summer shootings. Born in Regina and raised in Halifax, Robart graduated from both McGill University in Montreal and American University in Washington D.C. He has worked for ABC News, CBC News, and lived in Paris, France for two years where he worked as a reporter with Radio France International and as a producer/videographer with CNBC Europe.
Then, seven years ago, Robart and his wife Christine Groulx decided to put down roots in Ajax to raise their son Kieran, 9 and daughter Havynn, 7. Despite his extraordinary career assignments, Robart's personal life includes very ordinary local challenges: juggling schedules, walking dogs, and finding the humour in his daily chaos.
"We were living downtown, and I love Toronto, but after our second child we realized the need for more space, more parking, and more green space," Robart said he mapped out the commute times and proximity to nature in several Durham communities. Ajax fell right in the bullseye. "I zeroed in on a neighbourhood. One weekend we went and looked at four houses. We walked into this one house and said, 'This is the one.'
In his free time, Robart enjoys exploring the natural spaces around his home with his family and their two beloved rescue dogs. Haddie is a Corgi German Shepherd mix, and although she is a big dog, Robart says she will often crawl into bed with him and want to be spooned. "She thinks I'm her boyfriend. It's the weirdest thing. She's awesome." Gracie is a Terrier Spaniel mix who was rescued from the South Korean meat trade. "We always advocate for rescue dogs. There are so many great ones that need a home."
Even after seven summers living in the area, Robart says there is always something new to explore. "We just go around and try out different conservation areas. The more time we spend there, the more it feels like home. I think I know every splash pad in Durham Region."
The family's involvement in sports has been a great vehicle to explore the region. "I love the small towns we get to explore with hockey." Robart's son plays soccer and AA hockey while his daughter keeps busy with gymnastics and dance. "We go to Whitby, to Port Perry, to Uxbridge. I feel like a taxi driver. Every parent says that, but it's non-stop running from here to there. I'm trying to keep my head above water. You just have to laugh."
While the family explores the towns of Durham, Robart also thinks about the increased development he witnesses happening across the region. "One of the draws was the solitude. There were farms down the street and you saw deer and wildlife. Over the years, because there is so much more development, we are losing some of that. It's nice that some of the farmers are standing their ground and not selling when everything around them is saying 'it's almost time'. I respect that. There is a desire to maintain the history and the beauty of the place. I hope it can last."
Like most busy parents, Robart's priority is time with his kids. He says that despite the achingly early wake-up call to work on the morning show, his current schedule allows more family time each day. "I spent three-and-a-half years doing the 11 p.m. show, which I loved, but it just meant picking them up from school and dropping them off at home and not seeing them until the next day. It got tough. It got tough for me, for my partner, everything was just more challenging." With his new schedule, he can make time in the afternoons for his family. His wake up time is now 3:15 a.m., which means a bedtime of 8:30 p.m., which he jokes is sometimes earlier than his kids."As you get older, part of you enjoys going to bed early. I never thought I would say that." He doesn't nap. Instead, like many parents juggling shift work or difficult schedules, he says he tries to "maximize everything and cram it all in. It's a constant struggle to finish all the things you want to do and go to the gym and have some sense of normalcy."
The family is happy to put down roots in the area, with no plans to relocate anytime soon. "I see Toronto every day at work — and I love Toronto, but it's nice to sort of have the peace you find in Durham. Especially with a job that is so zany. It's nice to have a respite."
To see the finished bottle-opener project and other antics, follow Antony on Instagram and Twitter @AntonyRobart and watch him on Global News Morning Toronto every weekday from 6 to 9 a.m.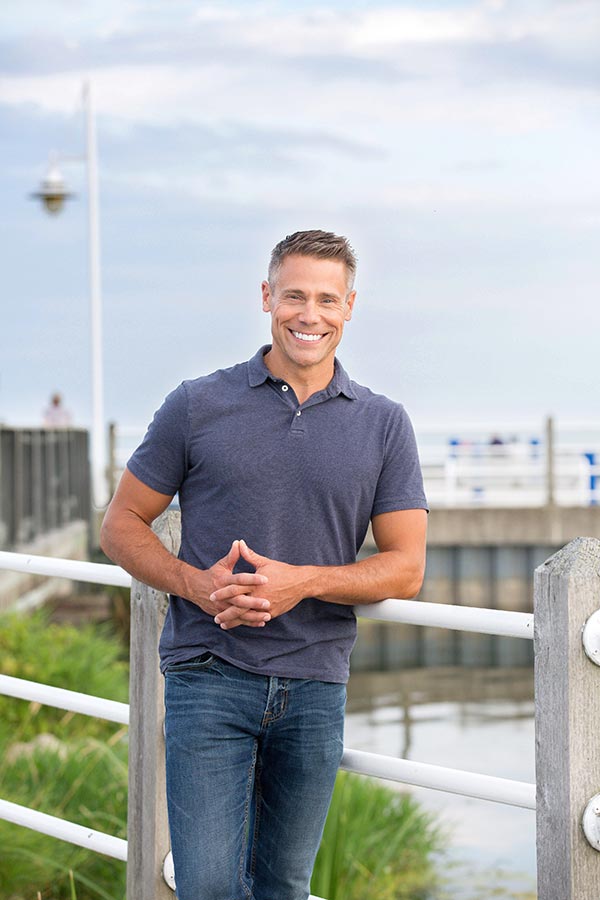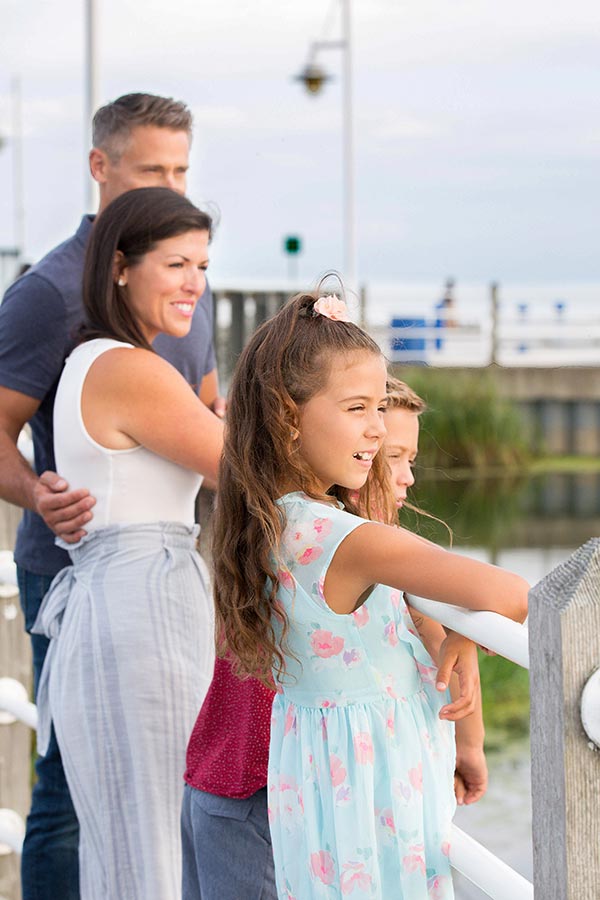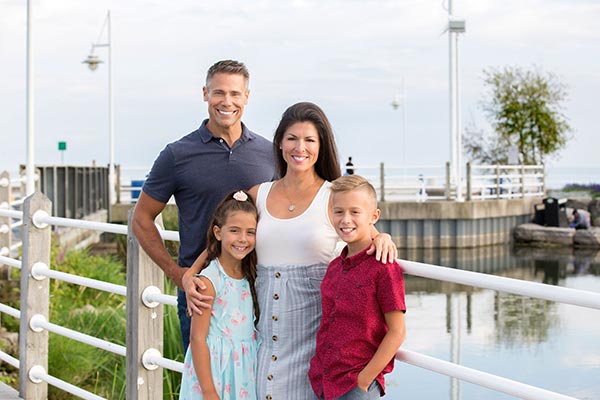 The Art & Craft of Oh My Goodness Soap
Story by Amanda Walsh | Photos by Wynne Feret
The health revolution is taking over all aspects of our lives. It's no longer just about healthy diets and exercise. Taking control of your health involves a closer look at all of the products you use, including what they contain and how they are made.
Wanda Emanoilidi, owner and founder of Oh My Goodness Soap Company in Whitby has always put a lot of stock in the products she chooses. Her commitment to finding products with all-natural ingredients became a passion and later an obsession. She's now hooked on the art and craft of creating her own line of handmade eco-friendly, human-friendly and pet-friendly skin products.
Truly Artisanal
Her distinctive line of soaps and personal care products have the clever marketing of a truly artisanal brand. Each product is artfully developed to not only provide skin-loving soaps, but also to capture the imagination of her customers.
Still in its infancy, Oh My Goodness Soap Company is something Wanda came by honestly. Just over one year ago she decided to create natural, environmentally friendly soaps and body products. "I wish I had done it sooner," she says. "It's more than just running a company and being an entrepreneur; it's an exciting and fulfilling hobby."
A Natural Decision
Wanda has always used natural products. She takes the time to read the ingredients in the products she uses whether it is for her personal use or items for her household. "I guess you can say OMG Soap Company was just a 'natural' decision to start up," she laughs.
The philosophy behind OMG Soap is simple. "I want to create beautiful, useful products that people love," explains Wanda. "I strive to make high-quality soaps and body products." This is evident in everything Wanda develops. She uses plant-based oils, and her products are all palm oil, phthalate, and paraben-free. "I hope using my products makes you feel wonderful," she says.
Inspired Design
However, there is more to her concept than soap. "Keeping the designs fun is also important," she explains. "I get to design the bars depending on their smells and uses." Wanda looks beyond the standard bar, using their names and ingredients as inspiration for their design.  "My beach bar looks like a sandy beach down south with a scent that reminds you of sweet summer air," she says. "My watermelon bar looks like a slice straight from the fruit — looking bright and smelling juicy. People love the themed soaps, and they are so enjoyable to make."
OMG Soaps are made by mixing lye, water and oils together. Essential and/or fragrance oils and colours are added before they are poured into their custom-designed molds. It then takes about 24 hours before they set. The soap bars then cure for four to six weeks. "As you can imagine, lots of effort and time goes into making each bar," explains Wanda. "It's not mass production, it's intimate and artisan."
Even her most basic designs have a marbled effect for a one-of-a-kind product that varies with every batch she produces. You can buy them just to have something pretty sitting in your guest bathroom soap dish.
This is just one more way her product goes beyond soap, with an imaginative nature that captures the spirit of the earth and what it provides. "I even grow some of my ingredients for the soap; I've used my own lavender and calendula blooms rather than purchasing elsewhere," she explains. "Again, those touches make OMG Soap an intimate company."
A Family Affair
It has also become a family affair. "My son Justin has been very helpful on the business side of things," says Wanda. "My son Evan has helped with naming some soaps and testing products. My daughter Kait has also been testing products and giving her input."
Wanda's new granddaughter has also provided inspiration for a new line of gentle soaps for babies. This is a reflection of how her company has evolved. Much of what she does is based on the needs of her own life and family. "I made my Dirty Dog soap for my dog Joey who was suffering with skin issues," she says.  "I look for opportunities in my everyday life where I can improve on ideas for my company." She also encourages her customers to reach out if they have special products they would like developed for their unique needs.
Metrosexual Influences
The metrosexual market has also provided her with ideas. Three of her sons have beards and have proven to be a valuable mini focus group for her beard oil and beard balm. "They really love them, and so do their spouses when they incorporate them into their grooming routine," she says. "They bring some great ideas to the table."
Wanda thinks metrosexual trends are always changing, especially in millennials and younger generations. "They love to smell good and look great without overloading their bathroom cupboards with 100 plus products," she says. "Keeping a grooming routine simple is also key."
Products with Purpose
Each of her products offer special benefits and uses. For example, her Gardener's Scrub Bar cleans and exfoliates using oils that soften and moisturize your skin. The ingredients in Fish On Fisherman's Soap have been used for hundreds of years as an attractant to fish. The product can be used for fishermen's hands and equipment providing a unique fishing-pleasing black licorice scent from anise oil. She even has a product to ward off mosquitoes, "Bug Off", which uses essential oils mosquitoes hate.  A welcome change from offensive sprays on the market.
Her skincare products include Charcoal Face and Body for acne-prone skin, an Anti-aging Facial Bar and grooming products designed to have a calming effect. Fragrances infuse aromatherapy into the products. In fact, everything she chooses provides a purpose. "Glycerin occurs naturally in handmade soap which is wonderful for your skin. Essential oils are used to calm, invigorate or heal."
Community Spirit
Committed to her community, Wanda even partnered with Whitby's Brock Street Brewery to develop a soap using their blonde beer. Her Shower Beers line reaps the benefits of hops which has skin softening amino acids that also have antibacterial properties and the ability to soothe irritated skin. "It's a continual search for the next thing and major trends," she says.
Her soaps are made in small batches using recyclable and reusable packaging. Her views on health are not just directed at humans, but instead focused on the entire planet. "I stray away from uses of plastics and stick to paper labelling and packaging. It's easier on the environment. I think my buyers appreciate this." And I'm thinking the planet appreciates it too.
Oh My Goodness Soap Company
www.omgsoapco.ca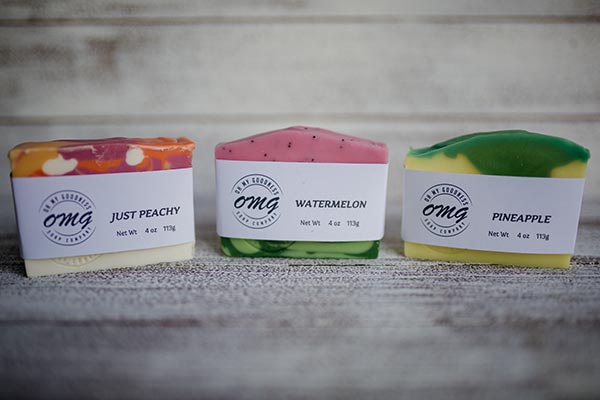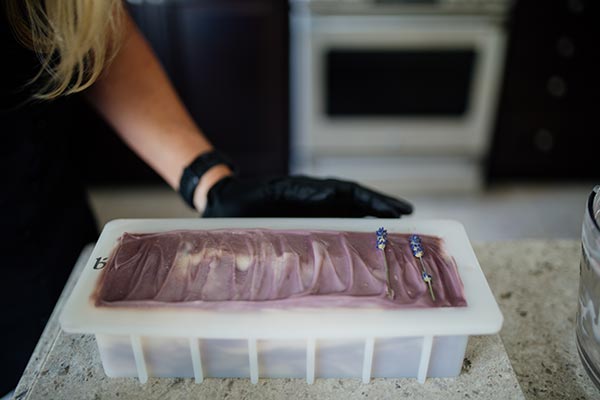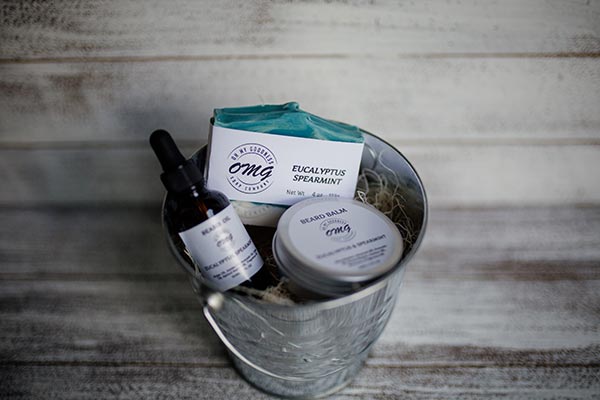 Lemons to Lemonade: The Reinvention of Leslie Seeley
Story by Amanda Walsh | Photos by Kirsten McGoey
We live in a glass-half-full, glass-half-empty world. For those of us lucky enough to see things on the positive side, life can remain a never-ending source of opportunity. Pure + Simple franchise owner Leslie Seeley, has always been a glass-half-full kind of gal. Although she did not expect to be offered early retirement after 31 years of service at GM, she realized opportunity was knocking.
"You had three weeks to decide," recalls Leslie. "At first, I was not interested in the offer, but once I learned the amount of work that was being added to my portfolio, I knew after 31-years it was time to leave and reinvent myself. Of course, I didn't know what this looked like but I'm an optimist and knew I would figure something out."
The Best She Can Be
Leslie learned to face challenges head-on at an early age. Playing competitive sports all her life taught her to push herself to be the best she can be. "My coaches and teammates over the years inspired me," says Leslie.  "When I was 16-years-old pitching for the Cloyne, Ontario Ladies Softball Team, I was so determined to pitch the team to a championship."
She set up a practice mound, drew a box on her barn door for the strike zone and practiced in her gravel driveway every day. "I had one ball and a Charlie Brown glove, and every day I stood on that mound and pitched to the box on the barn door," she laughs. "After the pitch, I would walk up, pick up the ball and walk back to the mound and do it all over again."
Eyes on the Prize
Leslie took that same drive with her when she was hired at GM. She felt she had found her true calling. "Once I was in the door at GM, I knew this was where I belonged," says Leslie. "There was so much technology and computers that I wanted to learn as much as I could."
Leslie spent her entire 31-years at GM in the Facilities Engineering office. She first worked as a clerk on contract, and after eight years she was finally hired as an hourly employee.  "My goal was to be a salaried employee so I could be put on a career path," recalls Leslie.
Taking her career into her own hands, Leslie registered for an Undergraduate program at State University of New York (SUNY). It took her two years of hard work to get her Bachelor of Science degree in Business, Management, and Economics. "I went to Buffalo every six weeks and spent the weekend in classes, then came home and worked on the assignments and readings before returning to Buffalo for another weekend."
Breaking the Glass Ceiling
Even with a degree under her belt, she still was unable to break that glass ceiling. True to her spirit, Leslie took the opportunity to plead her case when a female director from the U.S. paid her department a visit.  "I asked her for a minute of her time and gave her my resume explaining my 27 years of loyalty and my desire to be a salaried employee to take on a leadership role," says Leslie. "A few weeks later I was offered a salaried position."
Part of Leslie's pitch to the Director included a promise to get her MBA. With her new position, she immediately applied to Athabasca University in Alberta and was accepted.  She also applied for a leadership position at GM and was promoted to Facility Management Representative. She maintained the operations of three engineering buildings in Oshawa, Markham, and Toronto. "I finished my Executive MBA in April 2018 and attended my graduation in June 2018 in Edmonton with my two children," says Leslie. Just a few months later she received the offer for early retirement.
A Helping Hand
After losing her job she put her MBA to good use and focused on creating her own business. She had assistance from the Business Advisory Centre of Durham (BACD), where she attended free courses on labour law, accounting, social media, advertising, and marketing. She received one-on-one assistance from Teresa Shaver, executive director of BACD. "She met with me once a week to discuss my business plan including the financing strategies and the Small Business Government Loans," says Leslie. "I could not have completed the business plan without her assistance."
A Pure + Simple Solution
Leslie learned about Pure + Simple from her niece, Kate De Sousa. Kate had been driving from Waterloo to Toronto for Pure + Simple facials and products for years. She was so passionate about the product she approached Jean Eng, the owner of the company regarding opening a franchise.
When Kate opened her franchise, Leslie began making the drive to Waterloo for facials and products. She too was hooked. "At this time, I was working on my MBA and my career at GM, but I was interested in the thought of opening a franchise in Oshawa," she recalls. "Fast forward five years and here we are."
All-Natural Products
Pure + Simple offers all-natural skincare products made in Toronto. "We know that everyone's skin is unique, requiring customized care," explains Leslie. "What works for one customer may not work for another. Finding the right fit in terms of products or services for each individual is our expertise."
Leslie carries more than just their house brands and proudly curates truly natural skincare products and services. "Pure + Simple is a perfect fit for me because of my belief in health, fitness and natural skincare," says Leslie. "I also enjoy helping other people and making them feel good… if I can share the knowledge of Pure + Simple and provide the services they need, then I am in a good place."
Life After GM
"My journey in life has provided me with amazing experiences from sports to education. Along the way I met amazing people which has helped me to grow and learn," she says. "The current experience is learning how to run a small business, to survive and to wear many hats."
Moving forward, it is her drive that has sustained her. "Athletics was replaced by education," she says. "Now, it is with me in my business, but it is about making sure the customer has the experience they are expecting and even better. It is about having my team fulfilled and happy to come to work every day."
Leslie realized there is life after GM. "With the support of organizations and involvement in the community, reinventing yourself can be done," says Leslie. "You just need to reach out and ask for help." That and a positive outlook has helped Leslie turn her lemons into lemonade.
 
Pure + Simple Spa
1053 Simcoe Street North, Oshawa
(905) 240-6764
www.pureandsimple.ca/Oshawa-spa