Camping is a quintessential Canadian experience. We live and breathe the outdoors in this country. Our vast landscape of forests and lakes is what Ontario, in particular, is known for around the world. But traditional camping, admittedly, is not for everyone, and there are many different reasons for that. As an alternative, people are turning to glamping in increasing numbers.
If you've never heard of glamping before, it is a type of camping (associated closely with the accommodations side of the activity) which provides people with the fundamental camping experience and proximity to nature, with a little bit of luxury thrown in. Because, let's face it: when is a little luxury ever a bad thing, even in our great Ontario outdoors?
What's a Yurt?
If you ask those in the know – like Jeff Brown, Senior Marketing Specialist at Ontario Parks – yurts are considered the starting point for where the glamping movement in Ontario began. Today, Ontario Parks has approximately 69 yurts spread out across its campgrounds, and there are many more in privately-owned locations around the province.
But what is a yurt? It is a name for a nomadic type of dome-shaped dwelling that was traditionally used in the steppes of Central Asia. It was often covered with skins or felt, and the frame was a wood or bamboo latticework. In today's modern world yurts are of a more permanent construction. They are typically covered by manufactured materials like nylon, and are often framed with fibreglass, aluminum or other types of metal. Really though, the construction is not important; the modern yurt is still recognizable by its distinctive shape.
Yurts are becoming so popular, in fact, that some in the travel industry claim they are moving in on Airbnb's success for accommodation options for travellers around the world. They offer a wide-range appeal for their comforts. Modern yurts generally have beds, electricity, heat and cooking apparatuses. These are the comforts which make spending time in nature more appealing to those who have no desire to "rough it hardcore."
Of course, yurts are not the only form of glamping. There are other types of luxury camping options that you can explore which are just as luxurious as the yurt. Ontario Parks, for one, has a number of rustic cabins which take glamping to the next level. "You're in a one-room cabin that is slightly more insulated than a yurt," says Jeff Brown. "There are also a number of old buildings which have been converted to cottages to increase the range of options for your luxury camping experience."
It is this variety of options for glamping, beyond the traditional yurt, that really set the stage for why people are raving about it. "No two glamping trips will be the same," says Taylor Braithwaite, Director of Strategic Partnerships at Glamping Hub, an online portal for booking unique outdoor accommodations. "You could go glamping every weekend and there will always be a different structure or activity that will keep travel different and exciting."
Why is glamping becoming popular?
If camping is the quintessential Canadian experience, you might say, then why are people opting for a more luxurious experience rather than roughing it in a traditional tent? Don't worry, we Ontarians are not going soft in our modern age. We still love our rugged outdoors and could sleep on the ground if we wanted to.
However, we don't always want to. As a society, we are becoming more urban. We have more options for spending our free time, and greater choice for what to spend our disposable income on. So investing in and storing camping equipment is not always high on people's priorities these days – especially when we are downsizing our living space and have less storage available.
Taylor Braithwaite finds that when people visit Glamping Hub's website, they are typically within the age range of 25 to 42, and they are looking for three specific things. They want direct access to nature, comfort, and a unique structure. "While traditional camping is wonderful," she says, "some people are looking for more amenities and a certain level of comfort that enhances the experience, yet still has that same outdoor feel."
"There is a growing demographic of people who want higher-end in the things they do," agrees Jens Burgen, co-owner of Fronterra Farm, Camp and Brewery in Prince Edward County. "They want the supreme of things. They don't want mediocrity. So luxury camping is what people gravitate towards because of that desire for the best."
Local blogger Mandy Furnis of Sparkle Shiny Love can attest to the appeal of glamping. Recently she and her young family experienced the outdoors luxury-style at Long Point Eco-Adventures in Norfolk County. An occasional camper in her college years, Mandy and her husband had reached the point where sleeping on the ground had lost some of its rosy-hued appeal. They now had an urban lifestyle and a toddler to contend with. But like all kids, their son couldn't resist the thrill of sleeping in a tent and experiencing nature.
"When the opportunity came up to go glamping, we thought it would be a great way for us to test the waters and see if it was really for us," Mandy says. "We didn't know how camping was going to go with our son since he doesn't really know what it means. Was he going to be bored? How would he do with the bugs? Those were the things we had to consider when planning our trip. Glamping was a nice way to nudge ourselves back in the direction of staying outdoors."
Who glamps?
As you can guess by now, there is no one "type" of person that is a glamper. They are not highly-urbanized people who don't want to ruin their manicures and their designer shoes. "You'd be quite surprised at the differences," says Jens Burgen of Fronterra. "We have hardcore canoers and people who are just getting off work and want a little pizzazz. We have those who have never camped before, and people coming in from the European and Asian markets."
That last point is particularly salient. The thing about camping, in general, is that it is so iconic in Canada. People looking to experience the essence of this country, whether they are from here or not, will likely find luxury camping easier because of the convenience and the ease of getting into experiencing the outdoors. "To ask someone from Beijing to paddle in the outback of Canada is a bit much," Jens points out.
Event seasoned outdoors veteran Jeff Brown of Ontario Parks has stayed in a yurt. "I am a frequent user of our glamping options at Ontario Parks," he laughs. "I love it." With a young son at home, he finds it makes camping a lot easier not having to set up tents and scramble to prepare camp before dark. He says, "It's just nice to pull in, unpack, and enjoy ourselves right away. We still do tent camp as well, but we find yurts are great for those weekend getaways where you want to maximize your time in the outdoors."
Book Your Glamping Experience
If you think glamping is something you want to try, whether it's in a yurt or in another type of luxury accommodation, start your search with Ontario Parks at www.ontarioparks.com, Fronterra Farm, Camp and Brewery at www.fronterra.ca, or GlampingHub at www.glampinghub.com. Of course, there are many other great options in Ontario, and we encourage you to consider them all. To read about Mandy Furnis's adventures with glamping, visit her blog at www.sparkleshinylove.com.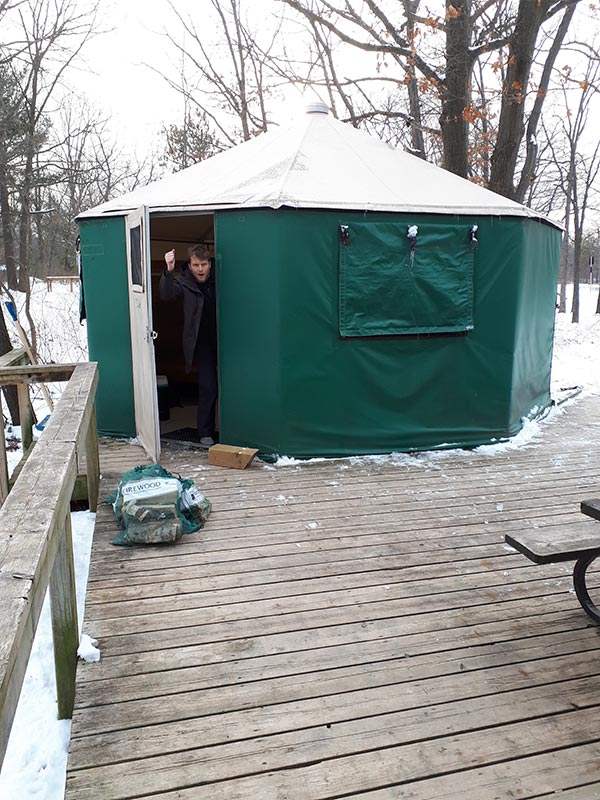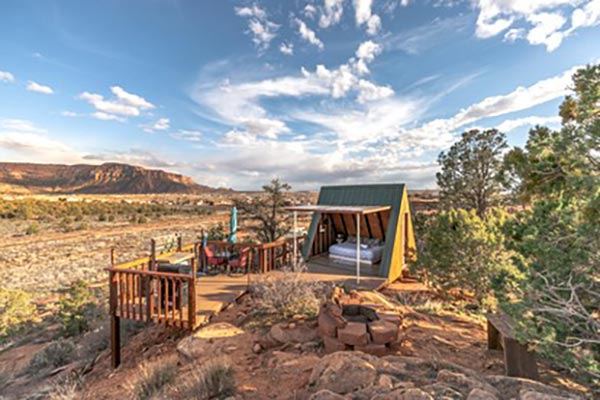 Story by Erin Elliott | Photos by Wynne Feret
There's something about vintage housewares that sparks the imagination and speaks to the soul. For Holly Roy, owner and operator of Champagne Vintage, a vintage reseller, it is the mix of practicality and nostalgia that fuels her passion for vintage.
"I look for items that speak to me. I feel like I want to rescue them and keep them out of the landfill. I see something in them that someone else might appreciate."
Roy has been operating Champagne Vintage online for about five years, starting when she became pregnant with her daughter and extending through her maternity leave from her job in corporate sales. "I would often be hunting for things for my own space and then I'd see other things that I thought I could sell." She became involved in several Facebook groups devoted to vintage resale and began selling the occasional item.
"It was a way to stretch my artistic wings. I just decided I was going to keep doing it for as long as it made sense. It's been a really exciting business to get into. It matches my strengths in sales and business with my interest in vintage and curating pretty things." Roy now runs her business online, from home, using her own dedicated Facebook page to sell items to customers across Canada and the United States.
At a recent pop-up shop, Roy offered a mix of vintage fabrics refashioned into pillows and pincushions, glassware and ephemera and saw her customers drawn in by an invisible force. "It's funny, when people came to my table they would have this immediate reaction of "Oh–I remember this! My grandmother had this in her kitchen! That's why I have enjoyed having this business so much. It's connecting people with things that make them smile or nostalgic or remind them of someone."
Types of Hunters
So, for those looking to get into vintage or expand their collections, where to begin? Roy says first, know what style of vintage hunter you are. She identifies two groups.
The first group enjoys the thrill of the chase. These hunters enjoy searching for the perfect item, have patience, and know they may not always find what they are looking for. For these personalities, she recommends heading out to yard sales and thrift stores. "We are so lucky east of the city because there are so many thrift shops that are full to the brim with vintage. If you look hard enough you will find your treasure." Although this approach takes more time, it can yield great results at a low price. "At yard sales, you can find some cool things for not very much money from people who are just happy to pass it along to someone who will appreciate it."
The second group of people are less interested in the hunting process or simply don't have the time, but they know their style and know what they want. For this personality, Roy says to head right for curated vintage retail shops in person or online. She names Brooklin Vintage and the Pickering Antiques Mall, as well as Facebook pages like hers or sellers on eBay or Etsy who specialize in certain time periods or vintage brands. Buyers can expect to pay more at these places. "Remember," she says. "These are small businesses. You're paying for the person who drove to 15 yard sales all summer and found all those things, cleaned them, fixed them and displayed them so they are in great condition for you to buy. There's a lot that goes on behind the scenes."
Once a buyer taps into the vintage world, how best to navigate the cache of found treasures and curated novelties? Roy says the best vintage treasures are those that are well-made. "Things that were made in the 50s, 60s, and 70s were made to last. People would buy items for their kitchen with the expectation that it would take them through their adult life. It was a different mindset from today when we think "Oh I'll get tired of these and next year I'll just go get a different colour."
She says vintage art glass from places such as Italy or Poland are having a resurgence. "It tends to be very beautifully coloured and looks like genie bottles or large vases."
In keeping with her quest for quality, she also keeps an eye out for heavy wooden furniture with clean mid century lines. "That type of furniture doesn't go in and out of style. You can have it for a very long time because you'll never get tired of the style and it was built to last."
Roy says that beyond quality, vintage hunters should follow their hearts and sense of personal taste to curate collections. "I have a really hard time leaving behind small trinket boxes," she says. "I love small trinket boxes. When you spend a lot of time in vintage and thrift shops you tend to have accidental collections. You go, "oops I have three of these, I guess I'm collecting these now!" She also loves brass magazine racks and anything rattan.
When it comes to using these items in the home, Roy advises vintage collectors to mix new with old and work in layers. "I've been able to develop the style of our home through thrifting because we have a mix of newer things mixed in with older things which tend to give your home an eclectic style."
Roy says that another potential source for vintage treasures is within the homes of loved ones. "I like to decorate my house with things that were passed down from my mother and my grandmother. There is something very comforting about using items that were used by people that are meaningful to you."
Browse Champagne Vintage treasures on:
Instagram @champagneandlollipops
Facebook  @ChampagneVintage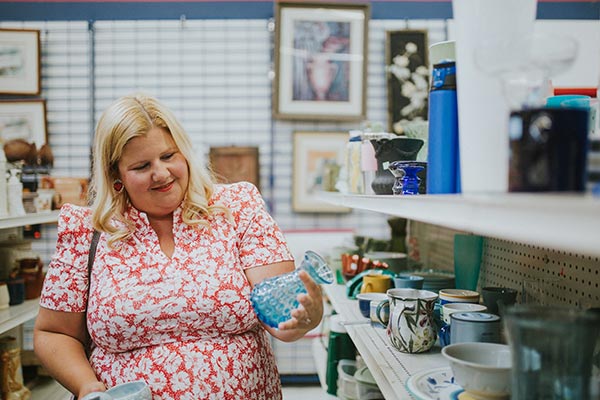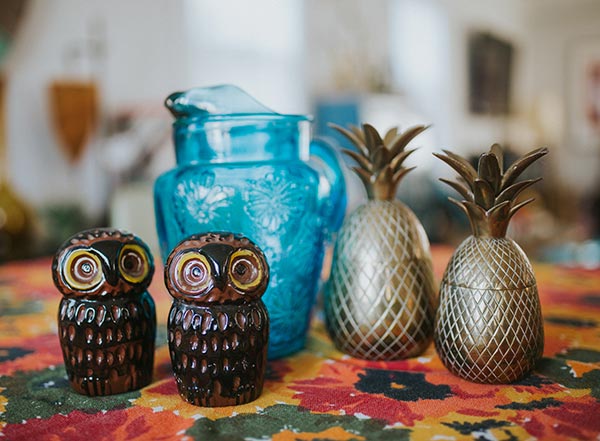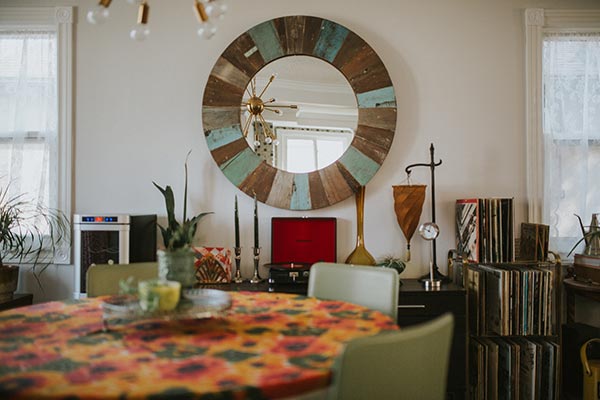 Tips from an Expert Vintage Hunter
Leave behind items that are stained, ripped, damaged or marked
Be careful with items that are porous such as fabric, padding or upholstery that can be difficult or impossible to clean
Check items for smoke damage or grime
If Pyrex has been through the dishwasher and lost its shine, nothing will get that back
Collect what you love, not what you think might retain or grow in value
Use your items: keep the vintage spirit alive in your home, not hidden away in storage.